The Dorset Players will host a special open house on Sunday, September 24, from 2:00 p.m. to 4:00 p.m. to recruit new volunteers and honor our current volunteers. The event will be held at the Playhouse. Refreshments will be served followed by a brief description of our upcoming season. Brief presentations by our behind-the-scenes specialists will include volunteer and training opportunities followed by tours of the Playhouse.
If you have been thinking about getting involved in different aspects of DPI, we urge you attend our open house and learn about new areas in which you can take part in. Open to all, please bring friends and family who would like to participate. Dorset Players' members and volunteers are the backbone of our productions. 
Walk-ins for the open house are welcome but RSVPs to dorsetplayervt@gmail.com are appreciated. Any questions may also be addressed to this e-mail address.
We look forward to seeing you on the 24th!

Auditions for Winter Show        
Auditions for the holiday production of 
THE 12 DAYS OF CHRISTMAS

will be held at the Dorset Church on Tuesday and Wednesday, October 3 & 4 at 6:30 pm.
Director Sheila Childs will be casting up to 20 roles, for both children and adults.  Rehearsals begin the week of October 16.  Show dates are Friday, December 1 & 8 at 7:30 pm, Saturday, December 2 & 9, Sunday December 3 & 10 at pm.
THE 12 DAYS OF CHRISTMAS

is a playful, modern interpretation of the classic Christmas song, with fresh dialogue and vivid characters. The young Partridge (of pear tree fame) is charged with rounding up all the characters of the song, for the traditional first presentation of the season. Nothing goes well.  This leads to mayhem, and confusion to the amusement of the all.
For perusal scripts or more information, contact Kathy at 802-867-5570.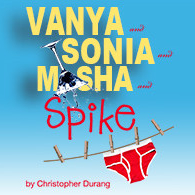 The Dorset Players will open their 90th Season with Christopher Durang's "Vanya and Sonia and Masha and Spike" directed by Paul Michael Brinker.  
Congratulations to the actors:
Vanya…Jim Young
Sonia…Laura King
Masha…Elisabeth Hazelton
Spike…Bobby Leonard
Cassandra…Tracy Hughes
Nina…Lillian Kelly
This 2013 Tony award winning play centers around Vanya and Sonia, who live a quiet life in their Bucks County home. But when movie star sister, Masha, and her boy toy Spike come to town, trouble and hilarity begin when Masha decides to sell the house.
The show will be presented October 6,7 and 13, 14 at 7:30pm  and Oct 8 and 15 at 2pm. Tickets will be available in September.
Our 90th Season
Vanya and Sonia and Masha and Spike
by Christopher Durang
October 6-8  and Oct 13-15
The Twelve Days of Christmas
by Renee Calarco
December 1-3 and December 8-10
Missoula Children's Theatre Presents
Cinderella
Auditions: Monday January 15
Performances: Saturday, January 20 at 3:00 and 7:00 pm
Mothers and Sons by Terrence McNally
March 2-4 and March 9-11
15th Annual One Act Festival
April 6-8
25th Annual Putnam County Spelling Bee  Music & Lyrics by William Finn; Book by Rachel Sheinkin; Conceived by Rebecca Feldman
May18-20 and May 25-27
Membership
Your membership helps support the Dorset Players endeavors throughout the year.  If you would like to join our membership click here, or contact the business office, Monday through Friday from 10:00 am to 2:00 pm. (802) 867-5570 or email info@dorsetplayers.org.
Your Support Is Needed…
And Greatly Appreciated
We love our theatre and love producing shows and workshops and we also spend a lot of time and money just keeping the roof over our heads. You can help by attending shows, becoming a member or a sponsor or just donating to our building fund. Every little bit helps. Send donations to Dorset Players, Inc. P.O. Box 521, Dorset, VT 05251.