We're Trying Something New!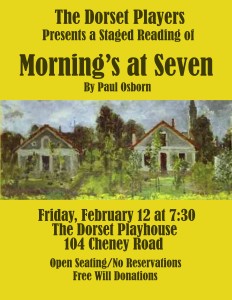 A staged reading of  "Morning's at Seven" by Paul Osborn will be presented for one night, February 12 at 7:30 pm.  There is no charge for this event but donations will be accepted.
The story focuses on four aging sisters living in a small Midwestern town in 1938, and it deals with ramifications within the family when two of them begin to question their lives and decide to make some changes before it's too late.
Playing the four sisters in this production are Suzi Dorgeloh, Elizabeth Karet, Martha Jo Perkins and Rebecca Nawrath. Rounding out the cast of characters also includes Shelia Childs, Tina Cutler, Bob Fry, Drew Hill, Errol Hill and Jim Young. Directed by Tom Ferguson.
Coming Next
March
Play It Again, Sam is about a film critic depressed over his wife's abandonment, who places himself in a film fantasy life where he is coached by his hero, Humphrey Bogart. Performances are March 4-6 and 11-13, 2016
April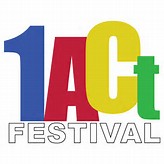 Each year, the Dorset Players offers its members an opportunity to try their hand at directing or acting without committing themselves to a "big" production.
This year's plays include:"The Monkey's Paw" by W.W. Jacobs, directed by Dom Degnon;"Electric Roses" by David Howard directed by Richard Grip; "Visitor from Forest Hills" by Neil Simon directed by Jeremy Lupowitz; "The Search for Signs of Intelligent Life in the Universe" by Jane Wagner, directed by Christine Decker and "The Footsteps of Doves"  by Robert Anderson, directed by Peter Van Haverbeke.
Performances are April 1-3, 2016
May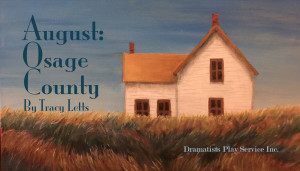 A look at the lives of the strong-willed women of the Weston family, whose paths have diverged until a family crisis brings them back to the Oklahoma house they grew up in, and to the dysfunctional woman who raised them.  Performances May 20-22, 27-29, 2016