Announcing Our 88th Season of Plays!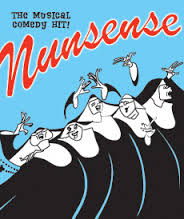 Nunsense is a hilarious talent show staged by five survivors at the Little Sisters of Hoboken nunnery, the rest of the sisterhood having succumbed to botulism after eating vichyssoise prepared by Sister Julia, Child of God. The remaining "Little Hobos" parade their talents at a variety show staged to raise funds so that the last four of the dearly departed can be buried.
 Performances October 9-11 and 16-18, 2015

Best Little Christmas Pageant Ever
 tells the story of Imogene, Claude, Ralph, Leroy, Ollie, and Gladys, six delinquent children surnamed Herdman who engage in misfit behavior for their age such as smoking, drinking jug wine, and shoplifting. They go to church for the first time after being told that the church offers snacks. Despite protests from other church members, they are given roles in the Sunday School's Christmas play, in which they tell the Christmas Story in a nonconventional fashion.
 Performances December 4-6 and 11-13, 2015



Play It Again, Sam
 is about a film critic depressed over his wife's abandonment, places himself in a film fantasy life where he is coached by his hero, Humphrey Bogart.
 Performances March 4-6 and 11-13, 2016

August, Osage County is a look at the lives of the strong-willed women of the Weston family, whose paths have diverged until a family crisis brings them back to the Oklahoma house they grew up in, and to the dysfunctional woman who raised them.
 Performances May 20-22, 27-29, 2015
The Business Office at the Playhouse will now be open from 9 am to 1 pm, Monday through Friday. The office number is 802-867-5570.